• Lisa Henderson • Christmas • Foxy Friends • Jolly • paper • Pool Party • Smoky Slate • Stamp & Create Team • Stampin' Up! • stamps • Swap Cards • Woodland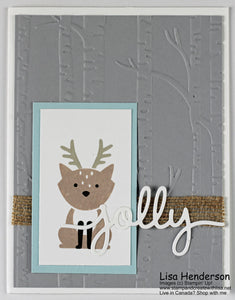 Hello Everyone! Welcome back.  Today I thought I would share a card that my downline, Amanda Farlinger, did for a recent swap at one of our team meetings.  I haven't had a chance to photograph it yet, but I did a version of this for a recent class too. One of the things that I really love about this card is that it uses a non-Christmas stampset.  I love when a stampset is versatile and can be used for many different occasions! A couple quick tips for this one: Fine tip glue is the only way to go for attaching...
---
• Lisa Henderson • Night of Navy • Pool Party • Smoky Slate • Star of Light
Hello Everyone! Welcome to the new blog & store!  I am sorry it has been so long.  My website builders at Sadlowski Consulting are awesome, but with returning back to work from maternity leave, and trying to juggle full time work, running a business and being a mom, I have been more than a little behind.  But I am working through it!  You will see more added to the store over time, and I'm hoping to blog here regularly.  I decided to launch the website while still uploading products so that I could show you some Christmas products while the...