News — 2020-2022 In Color
• Lisa Henderson • 2020-2022 In Color • Adventure awaits • card • Cards • Crop Kingston • demonstrator • Designer Series Paper • in colour • Memories & More • paper • pretty cards and paper international design team • scrapbook • Scrapbooking • Stamp & Create • Stamp & Create Team • Stamp & Create with Lisa • Stamp and Create with Lisa • Stampin' Up! • Stampin' Up! Canada • stamps • Swap Cards • swaps • world of good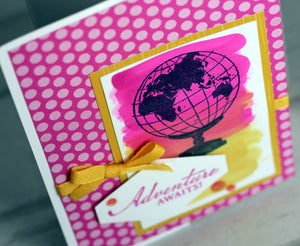 Hello! Welcome!  Today I am taking part in the Pretty Cards & Paper International Design Team Blog Hop!  This month we are showcasing the 6x6 Colour Packs.  I love how bright and fun the 2020-2022 In Colours are, so I decided to showcase those, along with the World of Good Suite that I have been featuring all week! I was working on my cards the other night and Bentley came in and told me I was doing them wrong and started rearranging my pieces on me: So I got the ultimate Mom "revenge" and sent him to bed ;) Then...
---
• Lisa Henderson • 2020-2022 In Color • card • Cards • Crop Kingston • demonstrator • Designer Series Paper • Memories & More • paper • scrapbook • Scrapbooking • Stamp & Create • Stamp & Create Team • Stamp & Create with Lisa • Stamp and Create with Lisa • Stampin' Up! • Stampin' Up! Canada • stamps • Swap Cards • swaps • tasteful touches

Hello! Welcome back!  This week I am featuring just a few of my projects from our mini virtual crop with Crop Kingston this past weekend.  This particular layout is super simple, but I love the hot pink (magenta madness), black and white combo! I LOVE our new Magenta Madness colour.  It's my favourite!  Instructions: To create this layout, start with a piece of 12x12 Whisper White cardstock.  Adhere a piece of the dotted designer series paper in the centre of the top of the page.  Adhere a 6x6 piece of Basic Black cardstock below the dotted paper.  Cut a piece of...