News — bubble over bundle
• Lisa Henderson • bubble over bundle • card • Cards • demonstrator • Global Stamping Friends • paper • Stamp & Create • Stamp & Create with Lisa • Stamp and Create with Lisa • Stampin' Up! • Stampin' Up! Canada • stamps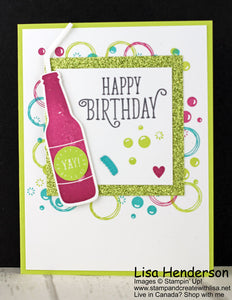 Hello Everyone! Welcome!  Today I am travelling and in London, Ontario for Stampin' Up!'s OnStage Event!  I love going to OnStage, and a special event the evening before, CentreStage--I get to see my Stampin' Friends, get business ideas, get to preview new product, get spoiled by Stampin' Up!, and best of all STAMP! On the blog here though, I am doing a blog hop with Global Stamping Friends again!  Today our topic was That Little Bit Extra.  I have a card to share with you that we did recently for a Stamp-a-Stack, and it was a CASE that I've changed...
---
• Lisa Henderson • bubble over bundle • bubbles & fizz • card • Cards • Crop Kingston • demonstrator • narrow notecards • paper • Stamp & Create • Stamp & Create with Lisa • Stamp and Create with Lisa • Stampin' Up! • Stampin' Up! Canada • stamps • tutti frutti sequins • weekend retreat
Hello Everyone!   I hope you are having a fantastic Family Day weekend (and apparently I missed all of last week so hopefully you had a great week too!).  It's been a bit busy around here, but I am slowly getting caught up - ha! Today I wanted to share with you photos from our recent weekend retreat--but because it's Make It Monday, I thought I would just show you one of our make and take projects today, and then show you more later this week! Instead of doing a 3d item like we do at our day crops, I came...