News — 2017-2018 Annual Catalog
• Lisa Henderson • 2017-2018 Annual Catalog • 3D items • card • Crop Kingston • demonstrator • Fresh Florals DSP • new catalog • paper • pocket scrapbook • scrapbook • Stamp & Create • Stamp & Create with Lisa • Stamp and Create with Lisa • Stampin' Up! • stamps
Hello Everyone! This past Saturday was our June Crop with Crop Kingston.  We had a great time, and hope you did too!  We raised $100.86 for Crohns and Colitis Canada--thank you to everyone that came to the crop, and also to those who shopped!  Our next crop is July 8th in support of Loving Spoonful here in Kingston.  To register, email cropkingston@gmail.com, or visit the store at https://stampandcreatewithlisa.net/collections/all-products/products/crop-kingston-july-2017 Today I wanted to share with you the make & takes!  We do 4 make & takes for every crop.  This crop, the grab bags were a bit different because the new catalog...
---
• Lisa Henderson • 2017-2018 Annual Catalog • Crop Kingston • demonstrator • new catalog • paper • Ribbon of Courage • Stampin' Up! • stamps
Hello Everyone! Once a year I run a crop (with the group Crop Kingston) in support of Relay for Life.  This year, we held it in May as a part of our National Scrapbook Day event.  When I received the Ribbon of Courage stampset at OnStage I knew it would be perfect for this event, and created this card for every participant as a thank you: This stampset was developed by one of our million dollar achievers in honour of her mother who had recently passed away from cancer. I hope you enjoyed this card!  You can shop for all...
---
• Lisa Henderson • 2017-2018 Annual Catalog • demonstrator • new catalog • OnStage • paper • Stampin' Up! • stamps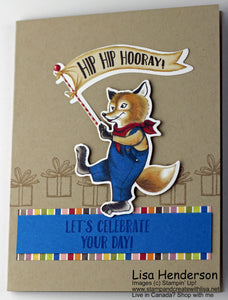 Hello Everyone! Today is the day for the new catalog to launch!  Now it won't launch until late this afternoon, and typically the site suffers from a severe slow down on catalog launch days (the last couple launches we have been known to "break the internet"), but the day is finally here!!!! I thought today I would show you a few samples that we created at OnStage in April to get your thoughts rolling! My favourite part about this one--that fox and his flag is Designer Series Paper that was cut using the coordinating dies!!  How cool is that?? This...