• Lisa Henderson • Basic Black • He's All That • He's The Man • Painted Texture 3D Embossing Folder • Rustic Metallic Adhesive Backed Dots • Soft Succulent • Tuxedo Black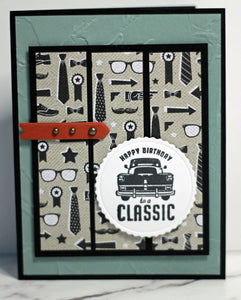 Happy Monday everyone! This week, I am so excited to be sharing this masculine card from my friend and fellow demonstrator, Elizabeth Green!     Although certainly there are no rules surrounding crafting, I find myself naturally gravitating towards more traditionally feminine crafting supplies, whether that be pens, cardstock, or ribbons. But I love going outside of my comfort zone every once in a while to experiment with other design ideas and challenge my creative mind.  I love how Elizabeth used the rustic metallic dots to add some texture and extra visual interest to the project. This, along with the...
---
• Lisa Henderson • Early Espresso • He's All That • He's The Man • Stylish Shapes Dies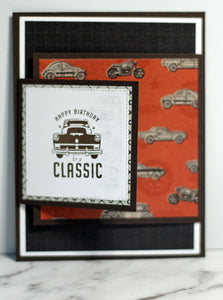 Hello, hello! I hope you all had a fantastic weekend, I know I did! I spent some time getting caught up on work and also took breaks to spend time with my family. Bentley actually had a birthday party to go to this weekend, where he had tons of fun! These are the things that I'm so glad are coming back with the end of the pandemic: activities that bring friends and the community together. This fun fold card is from my friend & fellow demonstrator Diane Hutchinson. Although this card isn't the one Bentley brought to the birthday party,...