News — Petal Promenade DSP
• Lisa Henderson • card • Cards • demonstrator • paper • Perennial Birthdays • Petal Promenade DSP • Stamp & Create • Stamp & Create with Lisa • Stamp and Create with Lisa • Stampin' Up! • Stampin' Up! Canada • stamps
Hello Everyone! Happy Friday!  I hope you have had a fantastic week, and that you have an even better long weekend!  I will be getting ready for our upcoming Fall Retreat with Amanda, and spending time with family and friends--and hopefully catching up on life in general at the same time! Today I have a really simple card to share with you.  This one is inspired by my friend Christine Alward.  She was using this Petal Promenade paper on one of her Facebook Live's--and she inspired me to finally break it open.  Because if I am being honest, this photographic...
---
• Lisa Henderson • card • Cards • demonstrator • Designer Series Paper • paper • Perennial Birthdays • Petal Promenade DSP • Stamp & Create • Stamp & Create with Lisa • Stamp and Create with Lisa • Stampin' Up! • Stampin' Up! Canada • stamps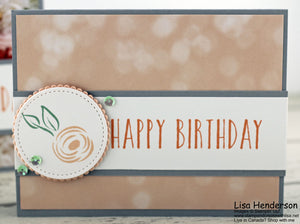 Hello Everyone! Happy Monday!  We have a very happy birthday boy (how is he 3???) that got his Birthday Adventure!  I hope you all had a great weekend as well! Today I have a very simple card to share with you using this week's product of the week, Perennial Birthday.  Here is an image of the stamps: This stampset is fantastic for birthdays--and lets face it, we all make more birthday cards then anything else!  Here is just one of the projects that I made with this set: And that background bokeh paper?  The reverse side is pretty too: So,...