• Lisa Henderson • card • Cards • demonstrator • Halloween • paper • Spooky Cat • Stamp & Create • Stamp & Create with Lisa • Stamp and Create with Lisa • Stampin' Up! • Stampin' Up! Canada • stamps • Star of Light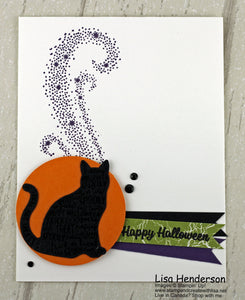 Hello Everyone! I hope you are all having a fantastic Thanksgiving Weekend!  We had a great meal with family and friends yesterday, and another one tonight! Today I though I would share a recent Halloween card that we did for the last class (and the kids class-they loved the cat!  But I did do the heat embossing for them after deciding that 7-10 years olds probably shouldn't use a heat gun!).  This was also a card that I used for a swap I was a part of.   tams# 16693 Product List Spooky Cat Photoplymer Bundle [146014] $40.00 Star Of...
---
• Lisa Henderson • Night of Navy • Pool Party • Smoky Slate • Star of Light
Hello Everyone! Welcome to the new blog & store!  I am sorry it has been so long.  My website builders at Sadlowski Consulting are awesome, but with returning back to work from maternity leave, and trying to juggle full time work, running a business and being a mom, I have been more than a little behind.  But I am working through it!  You will see more added to the store over time, and I'm hoping to blog here regularly.  I decided to launch the website while still uploading products so that I could show you some Christmas products while the...