• Lisa Henderson • balmy blue • basic white • blends • Designer Series Paper • dimensionals • fine sparkle adhesive backed gems • kindest gnomes • Night of Navy • paper trimmer • Smoky Slate • Stampin' Blends • Stampin' Cut & Emboss • Stampin' Cut & Emboss Machine • storybook gnomes • take your pick • tear & tape • trimmer • tuxedo black memento
Hello! Today I have a card to share with you from my friend and fellow demonstrator, Celia Mcdiarmid.  I love this card because the design is a perfect blend of magic and sentiment.  And I wasn't able to show it easily on here, but this is actually a really amazing fun fold!  The front square twists back onto the card base! Check out the supply list below.  Enjoy! Print Recipe Product List Kindest Gnomes Bundle (English) [159626] $68.25 Storybook Gnomes 12" X 12" (30.5 X 30.5 Cm) Designer Series Paper [159615] $16.50 Night Of Navy 8-1/2" X 11" Cardstock [100867]...
---
• Lisa Henderson • Embossing Powder • Fern 3D Embossing Folder • Heat Tool • Natures Prints • Night of Navy • Starry Sky • Sun Prints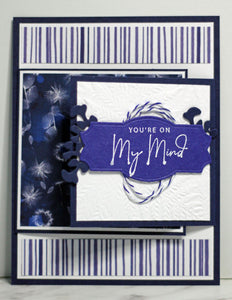 Hello! Today, I am sharing this fun fold card from my friend and fellow demonstrator Leanne Livingstone.   The elegant folds on the cover are to the card what French doors are to a house; they frame the card and give it a little extra elegance. When you open these folds, a fun phrase is revealed! Furthermore, by using different shades of the same colour on this card, it gives the card more depth and visual interest. This brings the card to the next level and makes it feel super well planned out and polished.  These little details are things...
---
• Lisa Henderson • Night of Navy • Pool Party • Smoky Slate • Star of Light
Hello Everyone! Welcome to the new blog & store!  I am sorry it has been so long.  My website builders at Sadlowski Consulting are awesome, but with returning back to work from maternity leave, and trying to juggle full time work, running a business and being a mom, I have been more than a little behind.  But I am working through it!  You will see more added to the store over time, and I'm hoping to blog here regularly.  I decided to launch the website while still uploading products so that I could show you some Christmas products while the...