News — Window Box Thinlits
• Lisa Henderson • card • demonstrator • paper • Stamp & Create • Stamp & Create with Lisa • Stamp and Create with Lisa • Stampin' Up! • Stampin' Up! Canada • stamps • Swap Cards • swaps • Window Box Thinlits
Hello Everyone! Thank you for stopping by!  Today I wanted to show you a swap card that I received from Kathi Davis.  I love that she used these thinlits in a completely different way!  Normally these make the little box that I featured last week, but I never thought to use them on a card front but it completely works! I also like that she inked behind the image to make it really stand out. Enjoy!
---
• Lisa Henderson • Stamp & Create • Stamp & Create with Lisa • Stamp and Create with Lisa • Stampin' Up! • Window Box Thinlits • Window Thinlits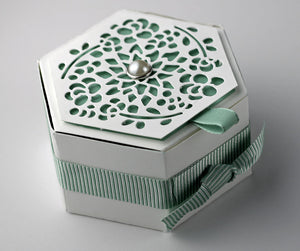 Hello Everyone! Today I wanted to share with you a gift from my friend Deb Duval.  She gave me this at OnStage in April, and this is the first I've been able to share it! Isn't it absolutely gorgeous?  The Mint Macaron Paper & Ribbons were discontinued, but a quick change in colour, and this could match any occasion!  They would definitely make a great wedding or shower favour! Enjoy!   tams# 14536 Product List Whisper White 8-1/2" X 11" Thick Cardstock [140272] $9.25 Mint Macaron 8-1/2" X 11" Cardstock [138337] $10.00 Mint Macaron 5/8" (1.6 Cm) Mini Striped Ribbon...