• Lisa Henderson • brightest glow • Cherry Cobbler • christmas lights • Evening Evergreen • gold & rose gold • layering circles • lights aglow • paper trimmer • quatrefoil tile • splendid stems • Stampin' Cut & Emboss • Stampin' Cut & Emboss Machine • tear & tape • very vanilla
Hello! Today I have an amazing card to share with you from my friend and fellow Demonstrator, Cindy Piggott! Like me, Cindy LOVES a good fun fold card, and this pocket card is no exception!  Isn't it stunning? Check out the supply list below and enjoy! Print Recipe Product List Brightest Glow Bundle (English) [159552] $71.00 Christmas Lights Cling Stamp Set [159538] $32.00 Lights Aglow 6" X 6" (15.2 X 15.2 Cm) Specialty Designer Series Paper [159535] $21.00 Gold & Rose Gold 6" X 6" (15.2 X 15.2 Cm) Metallic Specialty Paper [156844] $7.00 Very Vanilla 8-1/2" X 11" Cardstock...
---
• Lisa Henderson • Cherry Cobbler • Christmas • Merry Medley • paper • Stampin' Up! • stamps • Swap Cards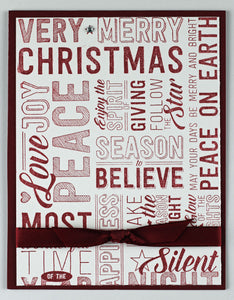 Hello! I hope you have enjoyed the new website!  I will continue to slowly work on getting the content uploaded, but one of the reasons I wanted to get it up and running right away was because I have some amazing swap cards that I received at the OnStage in Ottawa--and so many are Christmas themed.  So I thought I would start with these two featuring the Merry Medley stampset! I love the simplicity of this one.  Unfortunately, it didn't have the designers name for me to give credit, but it would be a perfect card for mass production!  The...