• Lisa Henderson • 2022-2024 In Color • Brewed For You • Cajun Craze • Crumb Cake • Early Espresso • Early Espresso Faux Suede Trim • Heat Tool • Linen Thread • Rustic Metallic Adhesive Backed Dots • Smoky Slate • So Saffron • Stampin' Cut & Emboss • Stampin' Cut & Emboss Machine • Stylish Shapes • Tailor Made Tags • Timeworn Type 3D • Versamark • White Embossing Powder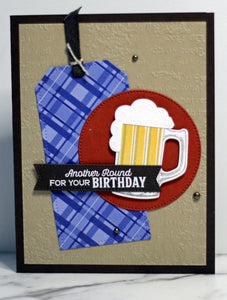 Hello! I hope your week is off to a good start. Today, I have my friend and fellow demonstrator Desiree Spenst's card to share! This is a fun masculine card and will surely impress anyone, whether they like beer or not.   This card has some fun visual interest with the patterned cardstock tag and textured background. This adds some extra details without taking away from the main focus of the card, the beer and birthday wishes.  Blue and red are always a great mature colour match for more masculine cards, and this one is no different. I love how...
---
• Lisa Henderson • Early Espresso • He's All That • He's The Man • Stylish Shapes Dies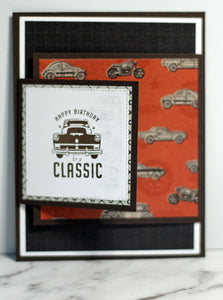 Hello, hello! I hope you all had a fantastic weekend, I know I did! I spent some time getting caught up on work and also took breaks to spend time with my family. Bentley actually had a birthday party to go to this weekend, where he had tons of fun! These are the things that I'm so glad are coming back with the end of the pandemic: activities that bring friends and the community together. This fun fold card is from my friend & fellow demonstrator Diane Hutchinson. Although this card isn't the one Bentley brought to the birthday party,...